The new T-Touch Connect Solar by Tissot
The new T-Touch Connect Solar by Tissot is a connected watch with an array of modern features and a solar-power-charged battery. Swiss Made, this fine timepiece is interactive and built to last, with a contemporary design and complete protection of users' personal data. CSEM helped develop the watch's ecosystem by creating a unique photovoltaic dial and providing expertise for a customized, ultra-low-power operating system.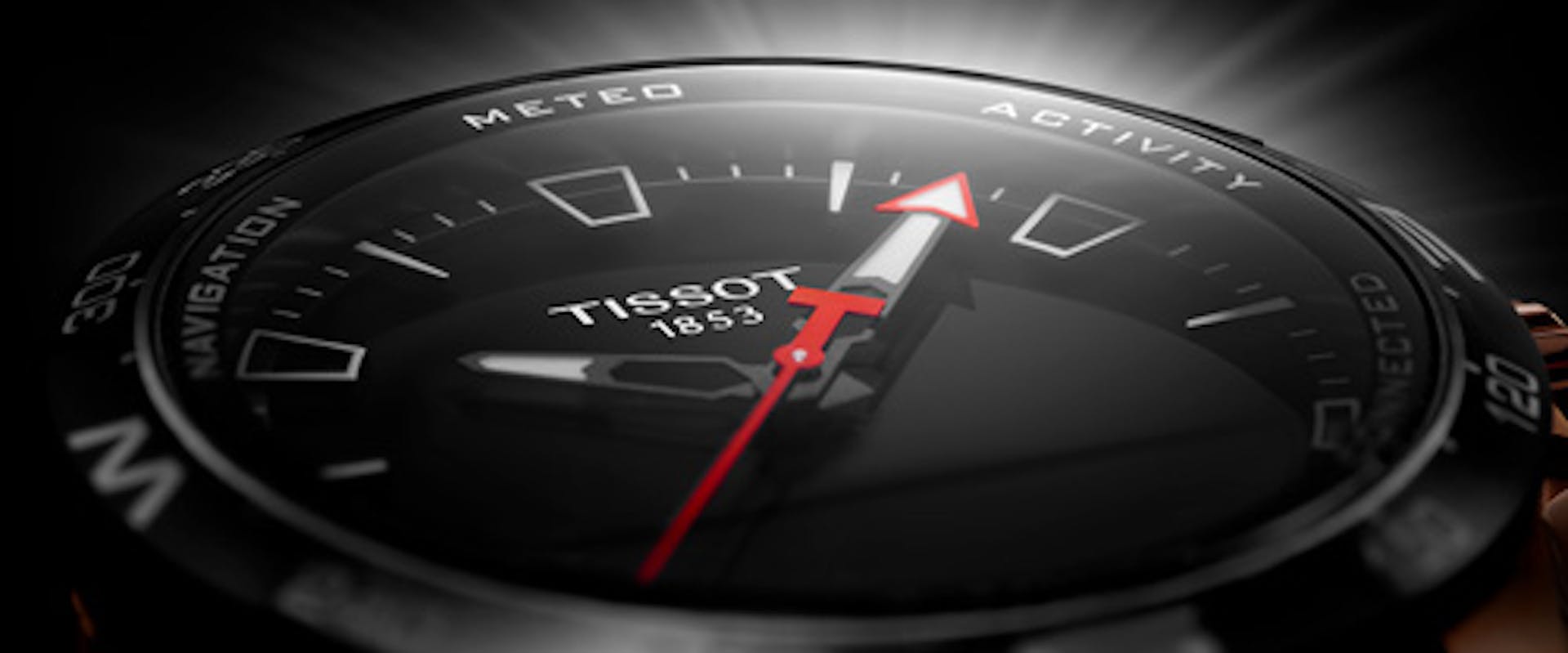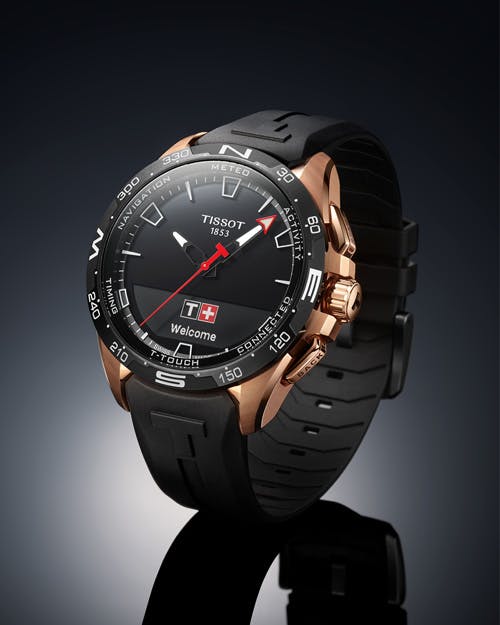 This new watch is the latest generation in a long line of tactile timepieces. It's water resistant to 100 meters and made of durable materials, meaning it's protected against obsolescence – especially the planned obsolescence of many consumer electronics.
Features
This new timepiece has all the basic features of the T-Touch Expert Solar, including a countdown timer, other timekeeping functions, alarms, weather information, an altimeter and an activity tracker. Users can also get notifications about calls, messages, apps and updates through an interactive function between smartphones and the watch's operating system, called SwALPS (for Swiss Autonomous Low Power System) – an ultra-low-power OS that was developed entirely in Switzerland. And like the entire T-Touch range, this newest addition is controlled using its hallmark feature: a tactile sapphire crystal.
Data cannot be accessed by any suppliers through the watch's components or operating system, and neither the watch nor its app transmits data to third parties.
Data security
One key advantage of the T-Touch Connect Solar is that it is fully designed and manufactured in Switzerland. This provides a guarantee not just of the timepiece's craftsmanship and quality, but also of the security of the data it collects. The data cannot be accessed by any suppliers through the watch's components or operating system, and neither the watch nor its app transmits data to third parties.
Low-power components and a solar dial   
To give the watch as long a battery life as possible, all of its components are designed to require little energy. The ultra-low-power SwALPS operating system was developed by CSEM in association with Swatch Group, and the photovoltaic cell used in its dial was created by CSEM in Neuchatel.
Thanks to these innovations, the T-Touch Connect Solar can run almost indefinitely when it's not connected and several months when it is, depending on how it's used and how much sunlight it's exposed to.
Finally, the T-Touch Connect Solar is universal, as it's compatible with the iOS, Android and Harmony operating systems – making it the first smartwatch compatible with Huawei devices. Additional features will be added in future updates. When the watch is not connected to the smartphone app, users can still enjoy all the features of the T-Touch Solar Expert – but updated. 
Interview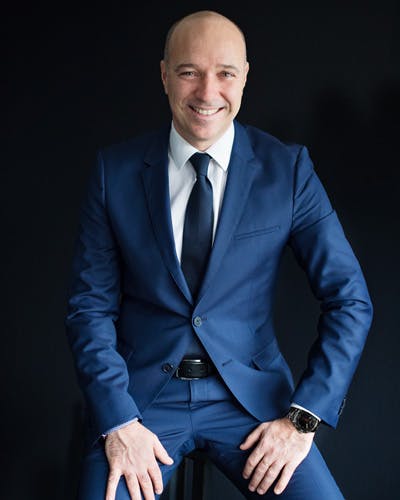 Sylvain Dolla, CEO, Tissot
What made you decide to develop your own operating system for the T-Touch Connect Solar?
Our main goal in developing this watch was to create a timepiece that offers an array of useful, connected features. We also wanted it to be able to operate independently. So it was clear from the outset that we would have to come up with our own operating system. And it made sense for us to team up with CSEM for the development work, since Swatch Group is one of the research center's main shareholders.
 What components did CSEM help develop?
We asked CSEM to create a photovoltaic cell with a stylish design, as well as the kernel of the watch's operating system. The OS was a joint development project with other Swatch Group companies like ETA, EM Microelectronic-Marin and Renata. CSEM engineers took part in all stages of the process and followed our vision, while offering their own ideas as well.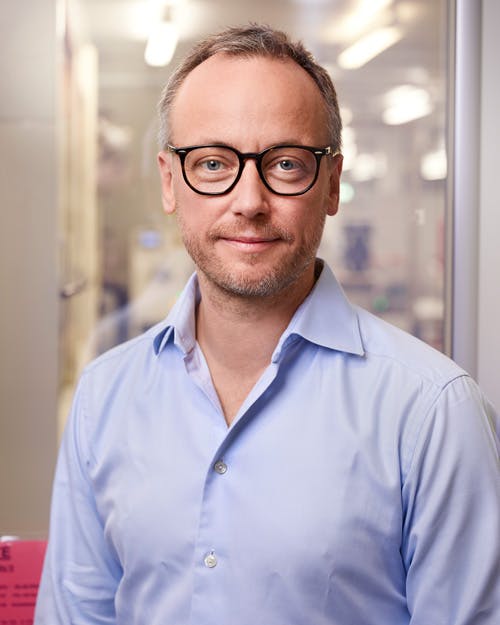 Julien Bailat, Section Head, Thin Film Devices, CSEM
Julien Bailat and his team developed the solar dial for the T-Touch Connect Solar and the associated manufacturing process. His engineers drew on CSEM's expertise in thin film deposition and microfabrication to create a photovoltaic cell with superior performance in low-light conditions. Their cell's sophisticated design meets the high standards of the Swiss watchmaking industry: luxurious style coupled with immaculate precision.
What challenges did you face in developing this unique solar dial?
The biggest challenge was to combine the high-tech performance of a PV cell with the visual design standards of a fine timepiece and the precision mechanics of a Swiss watch.
We couldn't meet all those specifications with existing PV technology. So we brought in methods from other industries, such as microengineering and medtech. Our PV cell had to be made with glass, which is a difficult material to use with high-precision machinery, especially at a reasonable speed.
How were you able to transition from the lab to large-scale production?
That was a tricky step for CSEM's R&D team. Fortunately, we were able to draw on the expertise of Swatch Group and other local companies when we needed a hand.
What makes your design particularly innovative?
What's new is that our PV cell is integrated entirely into the watch dial. Usually, when PV cells are used in watches, they're hidden under a semi-transparent decorative dial. But the surface of our PV cell serves as the watch dial, making the whole timepiece more efficient and giving it a longer battery life.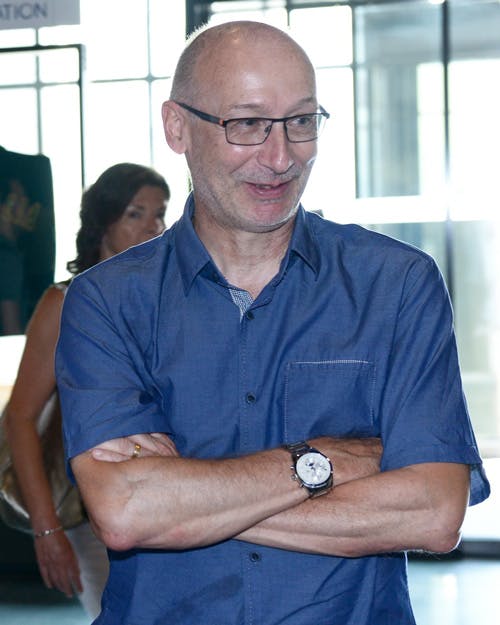 Edo Franzi, Section Head, Firmware & Security for Connected Devices, CSEM 
The proprietary operating system and real-time kernel used on the T-Touch Connect Solar – developed entirely in Switzerland – provide maximum data security with minimal energy use at all times. This was made possible thanks to CSEM's over 20 years of experience at the cutting edge of microprocessing and low-power systems.
How did the SwALPS operating system come about?
I became interested in operating systems and real-time kernels when I worked as a research assistant for Professor Nicoud at LAMI, a former lab at EPFL. There I developed an OS for controlling mobile robots. When I joined CSEM several years later, I worked on a team that developed an OS for modern microprocessors, drawing in part on my earlier knowledge. We subsequently modified the OS so it can be used with more general applications. To develop this special version for the T-Touch Connect Solar, we worked hand in hand with Swatch Group engineers.
What main challenges did you face, and what makes this OS unique?
The hardest part was making sure that the watch's power consumption remains as low as possible. That's where CSEM's real-time kernel comes in, although we had to adjust it to find the right balance between the watch industry's exacting standards, the available equipment and the low power specifications. We also had to consider watchmakers' needs and manufacturing requirements so that the software could be tested properly and run efficiently. We drew on a lot of innovations in our field, which were essential in making the T-Touch Connect Solar an ultra-low-power smartwatch.
Features
Swiss made
SwALPS low-power operating system
Titanium case, black PVD and pink gold coating
47 mm diameter and 15.3 mm thick
Engraved pushbuttons
Electronic crown
Ceramic bezel
Luminescent wind rose markings
Scratch-resistant, tactile sapphire crystal
Water resistant to 100 m (10 atm)
Quartz movement, solar-charged battery
Dial with photovoltaic cells
Low-energy, memory-in-pixel (MIP) digital screen