As your trust and confidence in CSEM is very important to us, we strive to respect the privacy and security of our users according to Swiss and European data protection rules and regulations. The cookies we use can neither read or search your computer, smartphone or web-enabled device to obtain information about you, nor access any material kept on your hard drive.
By using our website, you consent to our use of cookies and other means of identification and local storage (together referred to as "Cookies") in line with this Cookie Policy. You can prevent cookies from being stored, at the cost of some of the website's functionalities.
How and why we use cookies
We use cookies to give you the best possible experience when you visit our website. We use audience-measurement cookies to collect data on website traffic in an aggregated form, and to improve content and services for visitors. The data collected is used only for these purposes, and is not shared with any third parties.
How to control cookies and change your browser settings
If you've visited our website before, there may be previously set cookies on your device (search for "CSEM" in your cookies). You can delete all cookies that are already on your device, and you can set most browsers to prevent them from being placed.
For more information, please see your browser's user documentation (help) to find out how to manage cookies, or visit www.allaboutcookies.org/manage-cookies.
Types of cookies we use
The table below describes the cookies we use, and their purpose: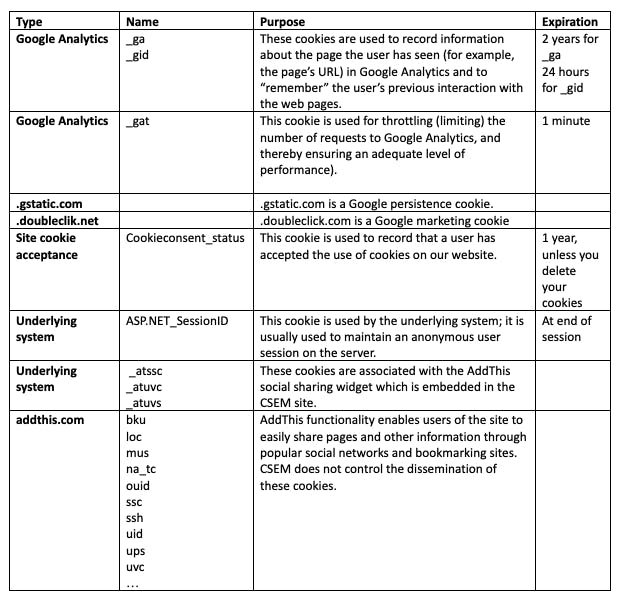 Use of social media plugins
We also use social media buttons and/or plugins on this site that allow you to connect with your social network(s) in various ways. For these to work, social media sites including Facebook, YouTube, LinkedIn and Twitter will set cookies through our site which may be used to enhance your profile on their site or contribute to the data they hold for various purposes, which are outlined in their respective privacy policies.
Google Analytics
Our website uses Google Analytics, The information generated by the cookies (see above) – including your IP address – is transmitted to and stored by Google. Google uses this information to evaluate your use of the website, compile reports on website activity, and provide other services relating to internet usage.
IP-anonymization ("IP masking" to ensure anonymous collection of IP addresses) is activated on our website. Your IP-address will be truncated within the area of Member States of the European Union or other parties to the Agreement in the European Economic Area. Only in exceptional cases – over which CSEM has no influence – will the whole IP-address be initially transferred to a Google server in the USA and truncated there.
You can also prevent collection of data by installing the deactivation add-on, for browsers, of Google Analytics. You can get this tool here
Links to other websites
If you follow a link from CSEM Sites to an external website, please be aware that the owner of the other website will have their own privacy and cookie policies.
Changes to this Cookie Policy
We reserve the right to change, modify, add, or remove portions from this Cookie Policy at any time.

Latest update: August 17, 2023