An innovation for monitoring the flow of a waterway without altering the natural environment
In partnership with CSEM, Neuchâtel-based Precidata has developed a system to monitor the flow of water from mountain torrents, bisses and streams. Equipped with three cameras, two solar panels and a wireless connection to a server, the contactless solution does not require heavy intervention in the river and operates in 24/7 mode all year round.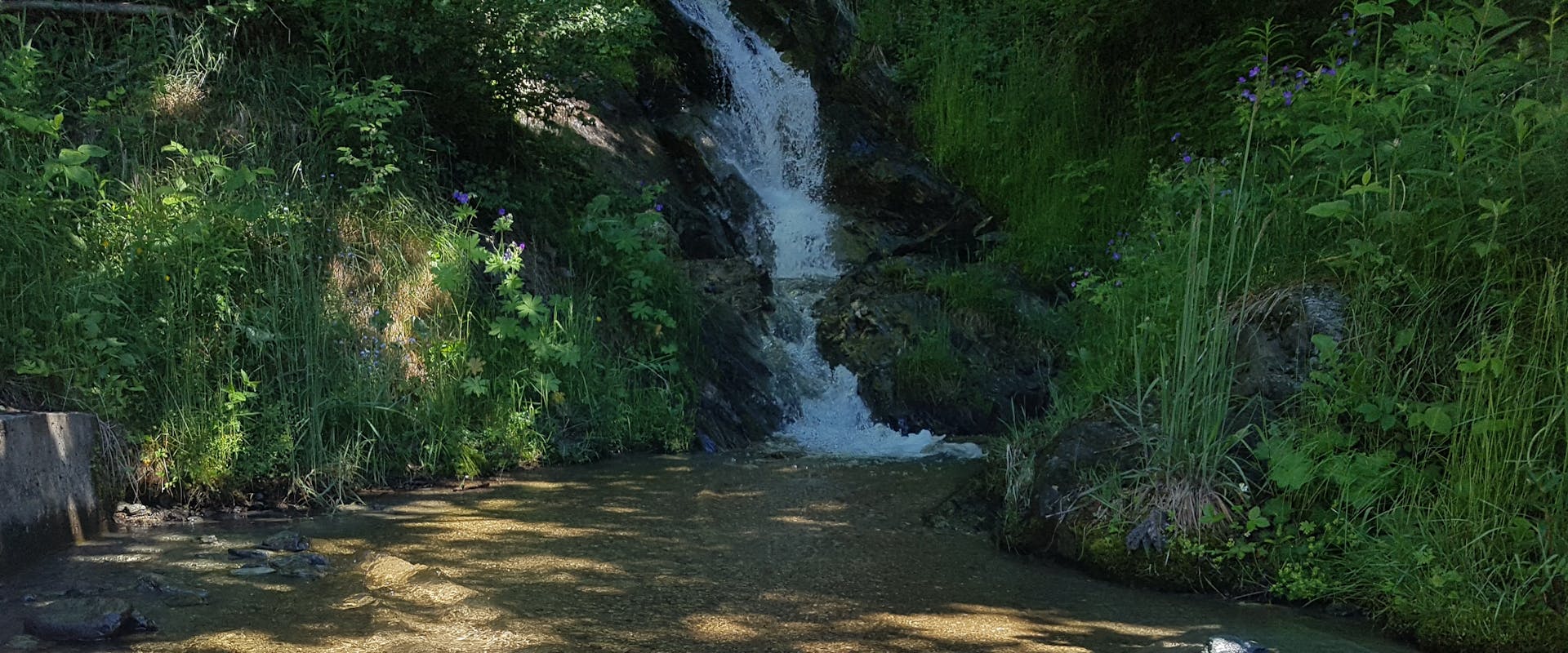 © CSEM
-
How to measure the flow rate of a small water stream without altering the natural environment?
CSEM and Neuchâtel-based SME Precidata have developed a system for monitoring and measuring water flow rates and issuing height and flow alerts for mountain torrents, bisses and streams. Initially developed in 2021 as part of the BlueArk Challenge, the system is lightweight and mobile. Self-powered and connected wirelessly to a remote server, it is equipped with three cameras which monitor the stream continuously, all year round. The system does not alter the natural environment, and provides communities with an invaluable tool for decision-making, particularly in optimizing water use and preventing flooding.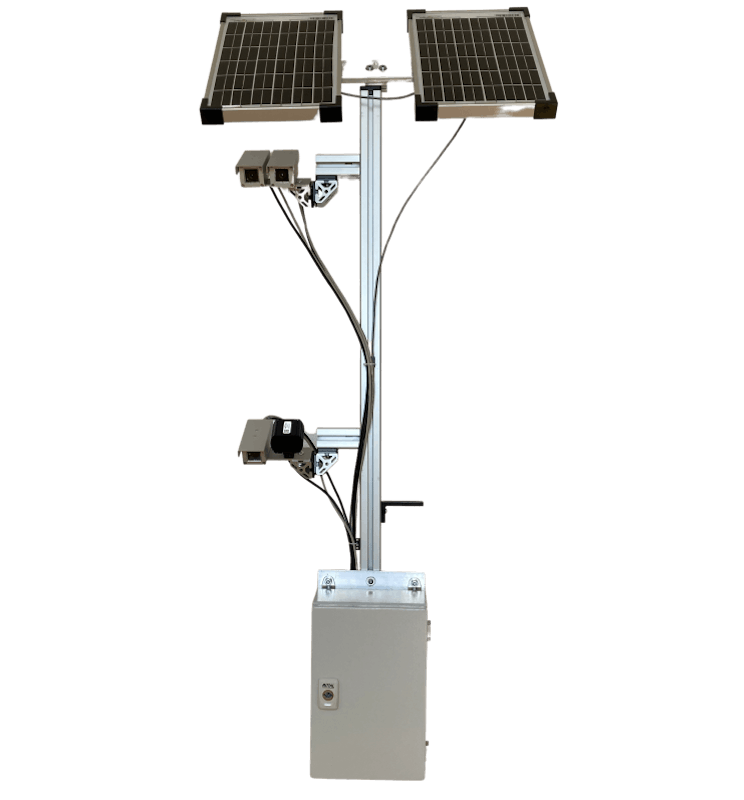 This specific project had its origins in the BlueArk Challenge, a call for projects launched in 2021 by BlueArk. Based in Châble, Switzerland, this center is dedicated to innovation in the field of water and natural resources. One of the winning concepts, the solution proposed by Neuchâtel-based firm Precidata and the CSEM is a contactless system designed to measure the flow rate of mountain torrents, bisses and streams without any major work to the stream.

A cost-effective solution for measuring the water flow rate using real-time and logged data
The installation designed by Precidata and CSEM underwent a feasibility evaluation in 2021, and, with the support of the Canton of Neuchâtel, now features an imaging system with multiple cameras, including dedicated lighting for continuous shooting. The solution operates using energy-efficient cameras (two infrared cameras and one-color camera) which record the water flow from two different angles so that these images can be reconstructed in 3D. The system is self-powered, thanks to a solar panel and a battery. Installed on the ground near the waterway, the equipment operates 24/7, all year round, to generate, store, and wirelessly transmit the data gathered to a monitoring server. In addition to continuous monitoring, the installation offers users the option to connect on demand to watch the waterway in real time. The system can also generate live flood warnings during exceptional events such as heavy rain or flash floods, as well as issuing alerts for high/low water level/flow rates, or drought, etc.
Optimizing water management without altering the natural environment
CSEM used its algorithmic expertise in AI and Computer Vision to adapt and integrate the algorithms for segmentation, 3D mapping and flow rate, while Precidata oversaw the integration of the various parts. The result is an integrated solution which is mobile, durable, and ready for field use. Lightweight and quick to install, even in hard-to-reach locations, the monitoring system gives users regular, accurate measurements of the flow rate of a waterway and enables the data gathered to be compared with older records in real time. Cédric Berger, CEO of Precidata states "Thanks to our system, the Swiss Confederation, cantons, municipalities and conservationists now have a tool to aid their decision-making and for modeling floods and droughts. Our solution enables them to draft scenarios to optimize water use and prevent damage."
A prototype was field tested in the cantons of Neuchâtel and Valais; in light of the excellent feedback received, the solution is now ready to be presented to potential users. If necessary, further research will be carried out with a view to its future development.
Additional information
Monitoring small streams is not as easy as it seems
One issue is the growing number of climate-related extreme weather events. Another is the fact that these waterways are essential for mountain regions, and demand for monitoring equipment is increasing, especially during heavy rainfall. Various solutions exist for measuring the flow rate of small streams, but none are without their drawbacks: satellite imaging, for example, does not allow for adequate temporal and spatial sampling (generally once a week) and cannot generate alerts. Moreover, it requires direct human intervention, large quantities of equipment, and a complex procedure. For their part, industrial solutions for automated gauging (such as flowmeters, pressure valves or weirs) use reinforced installations (canalized waterways) but these are not environmentally-sound solutions suited to general deployment. Partial solutions such as radar certainly generate alerts in the event of floods, but these systems only offer a single measurement point, i.e., the water height; there is no way to directly estimate the flow rate (velocity needed) and this cannot account for variations in the width of the waterway. Lastly, imaging systems are primarily designed for large waterways and require large-scale installations, making them more expensive as a result..

About Precidata
Neuchâtel-based firm Precidata Sàrl has nearly 20 years of experience specializing in data collection, processing, and enhancement, as well as reporting, alert management, remote control, automation, and Laboratory Information Management Systems (LIMS). Precidata prevents data loss by backing up data in real time and sends alerts and automatic reports to its large customer base. Pioneering in the field, its team of specialists supports customers in developing their projects. Developed entirely in-house, products such as the GlobalVision, SmartGateway and SwitchBox solutions offer unparalleled performance and flexibility, making them a key player in the Internet of Things (IoT), Green Tech, Digitization, Big Data, Augmented Intelligence, etc. www.precidata.com
 
About BlueArk
BlueArk is an innovation hub for technology and an in-situ data laboratory based in Le Châble (Canton of Valais, Switzerland). Established in 2018, it specialises in natural resource management with a particular focus on smart water management and digitalisation. By offering an extensive range of services, applicable to both lowland areas and the Alpine arc, it accelerates the emergence and development of practical, innovative and profitable solutions that meet the challenges of climate change, particularly in the field of water management. BlueArk is also behind the call for projects "BlueArk Challenge", held regularly since 2019, and organizes the annual BlueArk Conference, an event for water management specialists. www.blueark.ch 
Interested in the solutions developed by CSEM in the field of Internet of Things (IoT)? Please visit our dedicated page